INSV TARINI TEAM MEMBERS VISIT TO SAINIK SCHOOL BALACHADI, JAMNAGAR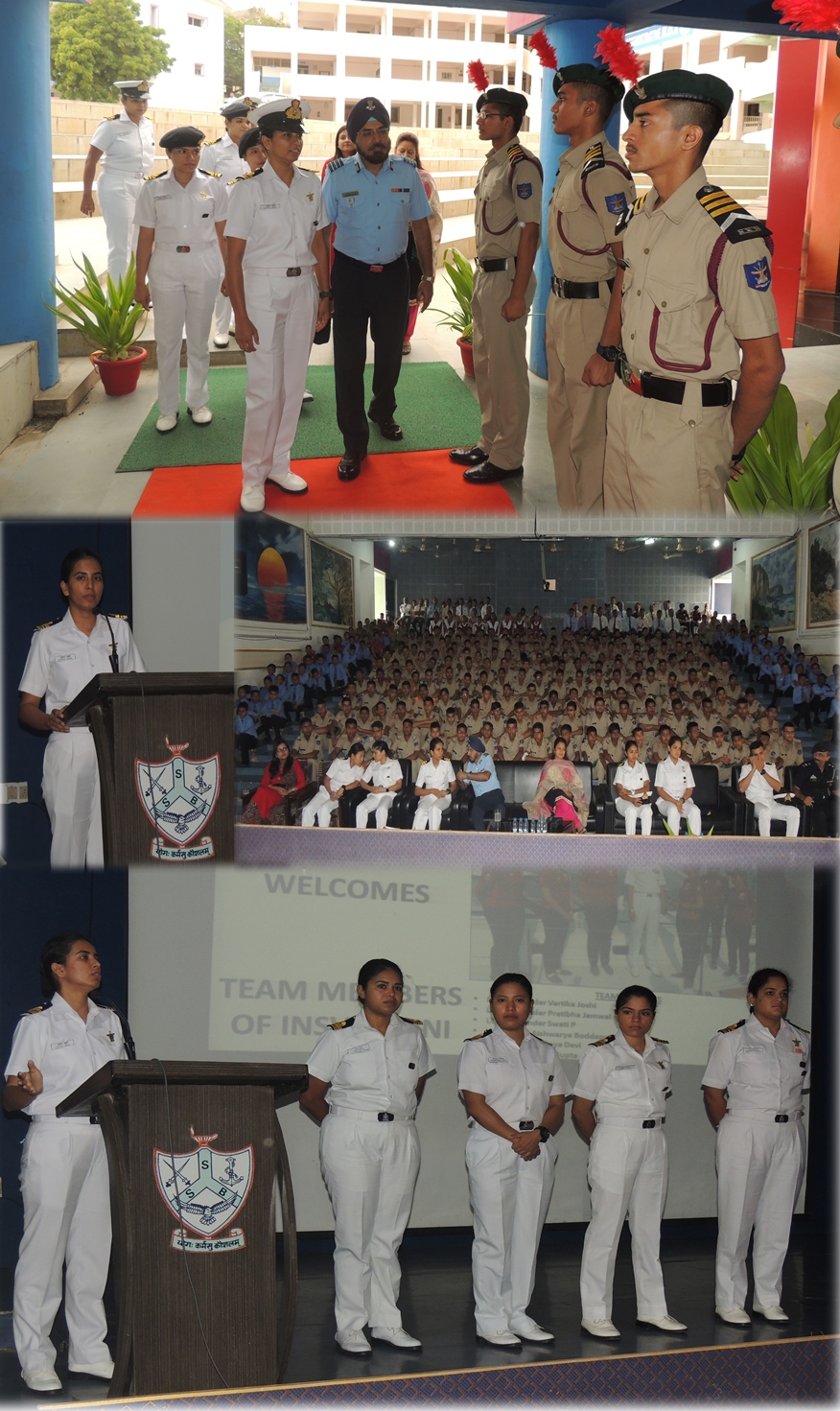 INSV Tarini team members of 'Navika Sagar Parikrama' expedition visited Sainik School Balachadi, Jamnagar on 01 Aug 2018. Gp Capt Ravinder Singh, Principal welcomed the Indian Navy's Women Naval Officers of INSV Tarini vessel.

The vessel was skippered by Lieutenant Commander Vartika Joshi and other crew comprised of Lieutenant Commander Pratibha Jamwal, Lieutenant Commander P Swathi and Lieutenant S Vijaya Devi, Lieutenant B Aishwarya and Lieutenant Payal Gupta.

While addressing the gathering, Lieutenant Commander Vartika Joshi told that they circumnavigated around globe in 195 days under Navika Sagar Parikrama expedition. It was first-ever all women Asian and Indian circumnavigation expedition of globe. The expedition started on Sept 10, 2017 in Goa was aimed at promoting women empowerment aligned with Government of India's thrust for 'Nari Shakti'. Under this expedition, the crew covered 21,600 nautical miles in Indian-built sailing vessel INSV Tarini that visited five countries and crossed equator twice. It sailed across four continents and three oceans and passed south of the Great Capes – Leeuwin, Horn and Good Hope. She also shared that the team faced strong winds of more than 60 knots and very high waves of up to 7 metres with courage and team spirit.

With the help of video and presentation, she explained the cadets about vessel and its functioning and how they have successfully completed the expedition. At the end, the team members answered the questions of cadets.

Principal in his address congratulated the entire team members for the successful completion of the expedition and assured that their visit to Sainik School Balachadi will keep the cadets motivated and make them more focused to achieve higher aim in life. He also facilitated the team members of INSV Tarini by presenting a school cap to each one of them.

The function culminated with the group photographs of INSV team members with cadets and staff.