The Prestigious West Zone Championship Trophy 2017-18
A RED LETTER DAY - GLORIOUS MOMENTS
(Third Time Consecutive Winner - SS Balachadi)
WEST ZONE INTER SAINIK SCHOOLS SPORTS AND CO-CURRICULAR CHAMPIONSHIP TROPHY
2017-18, 03-06 May 2017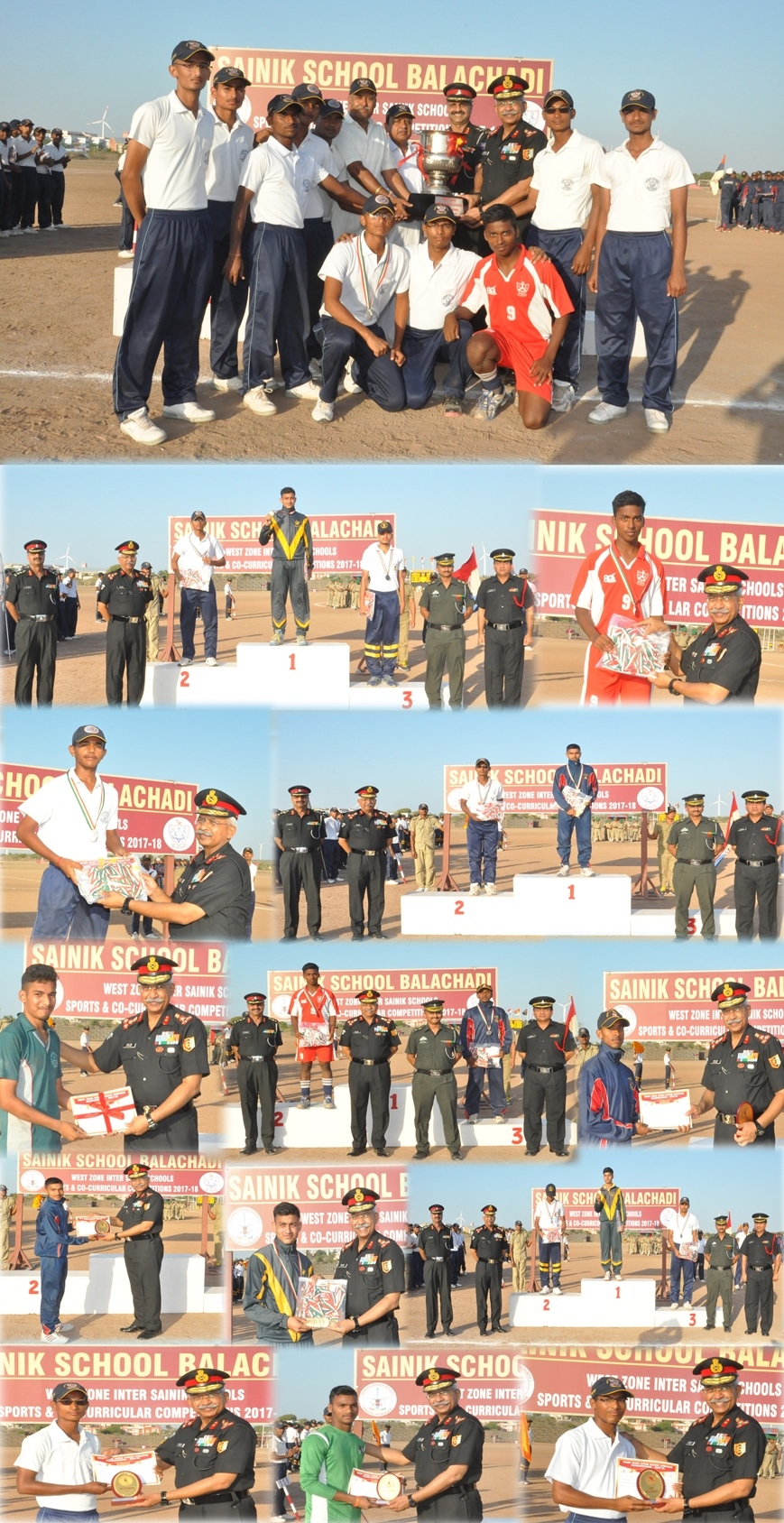 Sainik School Balachadi, Jamnagar hosted the West Zone Inter Sainik Schools Sports and Co-Curricular Competitions 2017-18 from 03 - 06 May 2017.
In addition to Sainik School Balachadi, Sainik School Chittorgarh from Rajasthan, Sainik School Rewa from Madhya Pradesh, Sainik School Rewari from Haryana and Sainik School Satara from Maharashtra participated in this four days mega event.
Teams of these schools participated in five sports events i.e Football (Sub Junior), Football (Junior), Hockey, Volleyball, Basketball and three literary events i.e Quiz, English and Hindi Debate.
The overall Championship Trophy was bagged by Sainik School Balachadi and the Sainik School Chittorgarh was declared as runners up. Cadet Tejashvi Kumar of Sainik School Satara, Cadet Saurabh Sagar of Sainik School Satara, Cadet Shivam Yadav of Sainik School­­­­­­­­­­­­­­­­­­­­ Rewa, Cadet Abhinav Kumar of Sainik School Chittorgarh and Cadet Shobit Gupta of Sainik School Satara were adjudged as the Best Players in Football (U-14), Football (U-17), Basketball, Voleyball and Hockey competitions respectively.
Cadet Vishal Raj, Cadet Abhay Pratap and Cadet Sushil Baghel of Sainik School Balachadi were adjudged as the Best Goalkeepers in Football (U-14), Football (U-17) and Hockey competitions respectively.
The 'Fair Play' trophy was awarded to Sainik School Satara for being the most disciplined, decent and honest in their performances.
Sainik School Chittorgarh bagged the first position in all the three literary events and Sainik School Balachadi was the runners up in all these events.
In English Debate, Cadet Ujjawal Dwivedi of Sainik School Rewa and Cadet Alok Anand of Sainik School Chittorgarh were declared as the Best Speakers 'For the motion' and 'Against the motion' respectively. While in Hindi Debate, Cadet Badal Yadav and Cadet Ujjawal of Sainik School Chittorgarh were declared as the Best Speakers 'For the motion' and 'Against the motion' respectively.
All the participants exhibited competitive spirit and true sportsmanship during the four days' long event. It has provided a platform for participating staff and students to share their thoughts, knowledge, culture and best practices with one another. The winning team in each game will represent the zone in the Inter-Zonal Sainik Schools Championships scheduled to be held at various Sainik Schools all over the country at later stage.
Brig Ajit Singh, Gp Cdr, NCC Gp HQ, Rajkot graced the Closing Ceremony as the Chief Guest and was welcomed by Colonel A K Sharma, Principal Sainik School Balachadi. The Chief Guest witnessed the football (U-17) match between Sainik School Balachadi and Sainik School Rewa. Later, he gave away the prizes and trophies to the winners. While addressing the gathering, the Chief Guest emphasized the role of games and sports activities in moulding the students into holistic personalities. He also congratulated the winners and the participants for exhibiting true sportsmanship. Further the Chief Guest appreciated the school authority and staff members for organising such a wonderful event in its own way reflected true national integration, universal brotherhood and camaraderie.
The ceremony came to an end with the vote of thanks proposed by Lt Col Dhirendra Kumar, Vice Principal, Sainik School Balachadi.