ALL INDIA SAINIK SCHOOLS INTER ZONAL BASKETBALL CHAMPIONSHIP 2022-23
Sainik School Balachadi, Jamnagar is hosting the All India Sainik Schools Inter Zonal Basketball Championship 2022-23 from 06 to 09 Sept 2022.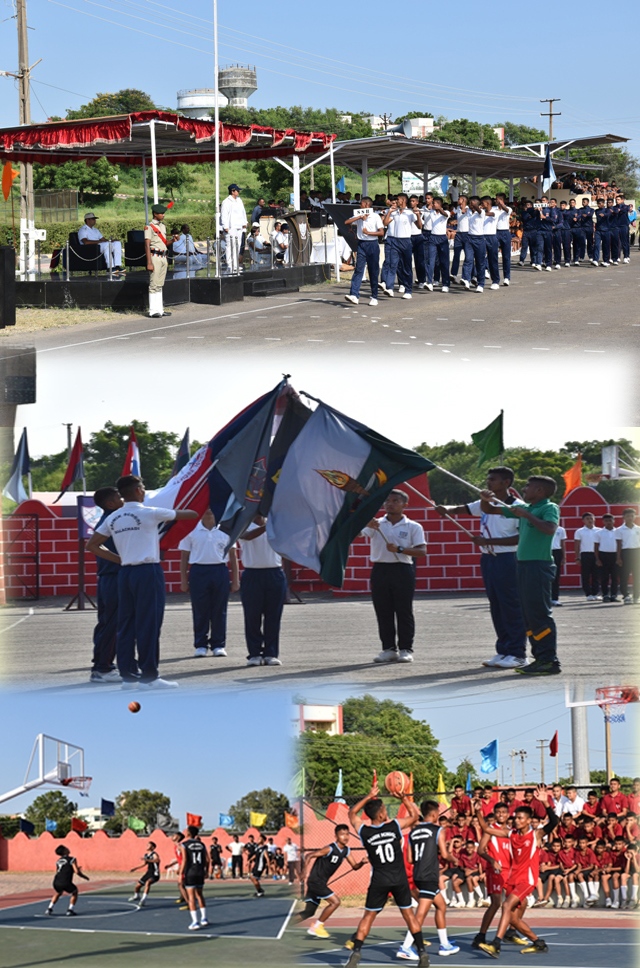 The Opening Ceremony was held on 06 Sept 2022 where Lt Col Harjot Kaur, Vice Principal, Sainik School Balachadi declared the Championship open. It was a grand event with March Past by the participating teams and Band Display of the School followed by oath taking ceremony. Balachadians also presented the group song 'Get Ready to Fight' on this occasion.
Five Sainik Schools from different zones of the country - Sainik School Kunjpura (Haryana) from North Zone, Sainik School Chhingchhip (Mizoram) from East Zone, Sainik School Bijapur (Karnataka) from South Zone, Sainik School Rewa (Madhya Pradesh) from Central Zone and Sainik School Balachadi (Gujarat) from West Zone are participating in this mega event.
The inaugural Basketball match was played between Sainik School Balachadi (Gujarat) and Sainik School Chhingchhip (Mizoram) in which Sainik School Balachadi defeated Sainik School Chhingchhip by 50 – 40.
While addressing the gathering, the Chief Guest emphasized the role of games and sports activities in moulding the Cadets into holistic personalities. She also emphasized that participating in various games and sports also develop a feeling of sportsmanship. She said favourite part of the sport is to get opportunity to participate. She also quoted the famous quote of Jesse Owens "Friendships born on the field of athletic strife are the real gold of competition. Awards become corroded, friends gather no dust."
Vice Principal extended warm welcome to all the teams to Sainik School Balachadi and wished all the teams for their upcoming matches.
School Sports Cadet Captain Cadet Akhil Pratap Singh proposed the Vote of Thanks.