INDIAN NAVY MOTORCYCLE EXPEDITION GROUP "SEA RIDERS" VISITED SAINIK SCHOOL BALACHADI, JAMNAGAR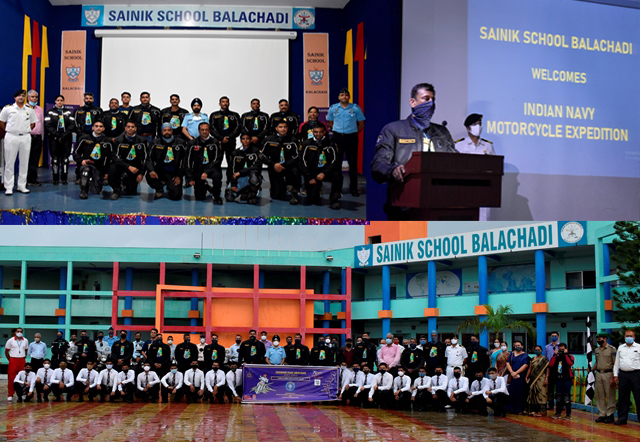 As a part of Swarnim Vijay Varsh, celebration of 50 years of 1971 war victory, "Sea Riders" - a team of 16 Indian Naval Officers including a Lady, part of the Indian Navy Adventure Motorcycle Expedition group visited Sainik School Balachadi, Jamnagar on 14 Sept 2021. The Naval team was led by Capt (IN) Sumeet Puri.
On their arrival in school, the Sea Riders Motorcycle Expedition team were given a warm welcome by the Officers, Staff and Cadets of the school. On this occasion a movie on the Award of President Colour to Naval Aviation was shown. Similarly, the Sea Riders came to know about the school through a documentary.
Speaking on this occasion, the team leader Capt (IN) Sumeet Puri said that the team is undertaking a 6000 kms expedition from Karwar to New Delhi whilst visiting the launching pads of 1971 campaigns on the Western front with an aim to spread awareness in schools and colleges about the significant victory in 1971 war. He congratulated Officers, Staff and Cadets of the school for celebrating the school's Diamond Jubilee Year. He wished everyone a great health, happiness and success in life.

There was an interactive session in which Cadets of class XII & XI asked many questions to team members about their expedition and Indian Navy which were suitably replied by the Officers of the expedition group.

On this occasion, Gp Capt Ravinder Singh, Principal, Sainik School Balachadi congratulated the Naval Aviation group for receiving the President Colour. He briefed the Cadets about the Naval Aviation group. He admired the achievements of the Indian Navy. He also said any type of adventure expedition contains two factors- 'Passion' and 'Curiosity' and these two factors ignite the leadership which is an integral part of Indian Defence Forces.

Cadets of other classes and their family members also witnessed the function from their home town virtually. The event culminated with the 'Vote of Thanks' given by Lt Cdr Manu Arora, Vice Principal, Sainik School Balachadi.