'KARGIL VIJAY DIWAS' OBSERVED IN SAINIK SCHOOL BALACHADI
Sainik School Balachadi, Jamnagar observed 'Kargil Vijay Diwas' in School campus on 26 July 2023, on the 24th anniversary of the victory of the Indian Armed Forces in Operation Vijay against the infiltrating Pakistani troops.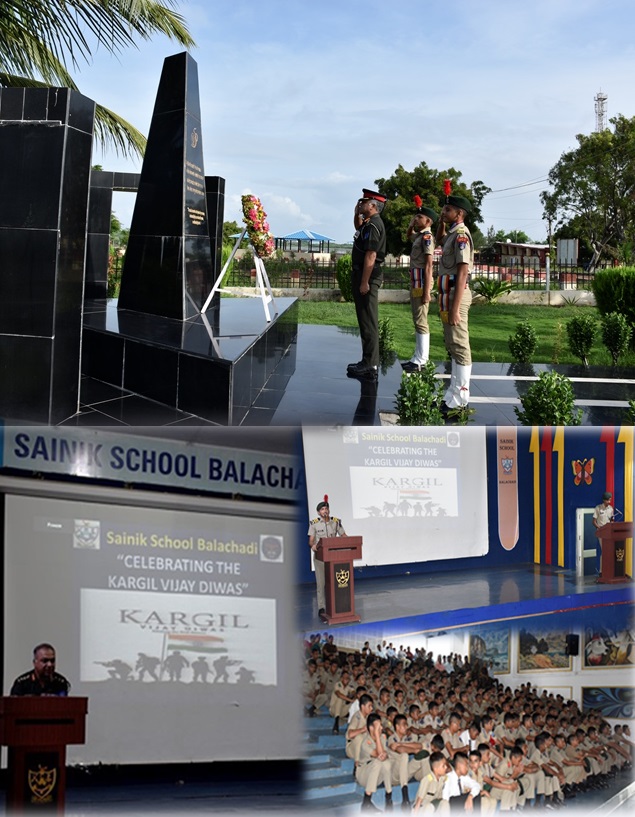 On this occasion, Col Shreyash Mehta, Principal of the School laid wreath on Shaurya Stambh - the War Memorial of martyrs. The victory and history of Operation Vijay were well explained to audience by the Cadets of Garuda House in School auditorium. Audience was also briefed about various Param Vir Chakra awardees of Kargil War. During his address, the Principal wished everyone Happy Kargil Vijay Diwas and highlighted the significance of this day through story of sacrifice, courage and bravery. He also shared the story of fisherman which tells us the importance of positive inner self talking. The Principal concluded his speech with a message "the way you think is the way you become".
The programme culminated with the spirited rendering of the National Anthem.